We offer a wide range of accounting services, so take a look and
GET IN TOUCH
if you'd like to know more about how we can serve your business.
A Virtual Finance Director provides you with years of sharp end financial and management experience, at a fraction of the cost of employing a fully qualified accountant.
builds decision making confidence
improves financial progress
more accounting services we offer
annual accounts
We take care of all your year end accounting and tax requirements and ensure timely and accurate submissions.
payroll
Make sure your payroll is fully compliant with HMRC's Real Time Information reporting requirements. Never miss a deadline.
vat
We can register you for VAT and advise you on the ideal scheme for your specific requirements, helping you potentially save £1000's a year.
personal tax
We can register you for a self-assessment tax return and can complete and file for you accurately and on time.
tax advice
We understand tax and can help you minimise your tax liabilities through efficient planning of salary and dividends.
If you're interested in the services we offer and want to find out more about how we can best serve your business, please don't hesitate to get in touch.
Accountwise have been my accountants for about 18 months, their services were recommended to me and what a great find they were. They are easily contactable, explain pricing upfront and offer a cloud based accounting package that is easy to use, affordable and has all the banking feeds you will ever need. As accountants they are extremely professional and have an ability to explain HMRC rules in an easily understandable way. A real 5 star accountant and service offering.
Dominic Webb
Rob and his team are my safety net – worrying about company returns, accounts, VAT so that I don't have to. Always attentive, tech literate, and familiar with one-man consultancy businesses, Accountwise is there quietly in the background making sure everything gets done.
Mike Atherton
Always get great service and they make sure all paperwork is delivered and filed on time.
Jan Jensen
Rob and his team provide Redthread and me personally with an outstanding, attentive, prompt, and unfailingly helpful service!
Bryn Davies
Rob and his team have been our accountants for nearly ten years. Excellent quality and service — they are fast, friendly, always ready with advice when I need it, and make accounting very easy for me – which I really value. I would recommend Accountwise very highly.
Karen Smith
Accountwise has been our accountant for several years and has helped us change and adapt as our business has grown. They have a calm and peaceful manner and have been our support net, always ensuring that our business flows smoothly and everything is filed and dealt with on time. They are unfailingly patient and always able to explain things at my level so never make me feel daft with the questions I ask. They are extremely knowledgeable and always available to answer any queries as they arise. We have nothing but praise for Rob and his team and would recommend them to all.
Michael Noone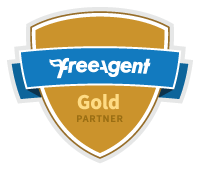 As FreeAgent and Xero certified partners, we can help you make accountancy truly stress free and painless with fixed price packages.